Enhanced Oil Recovery Insights: New Interpretations of Alpha Minnelusa Field Based on Geologic Mapping and a 3D Seismic Survey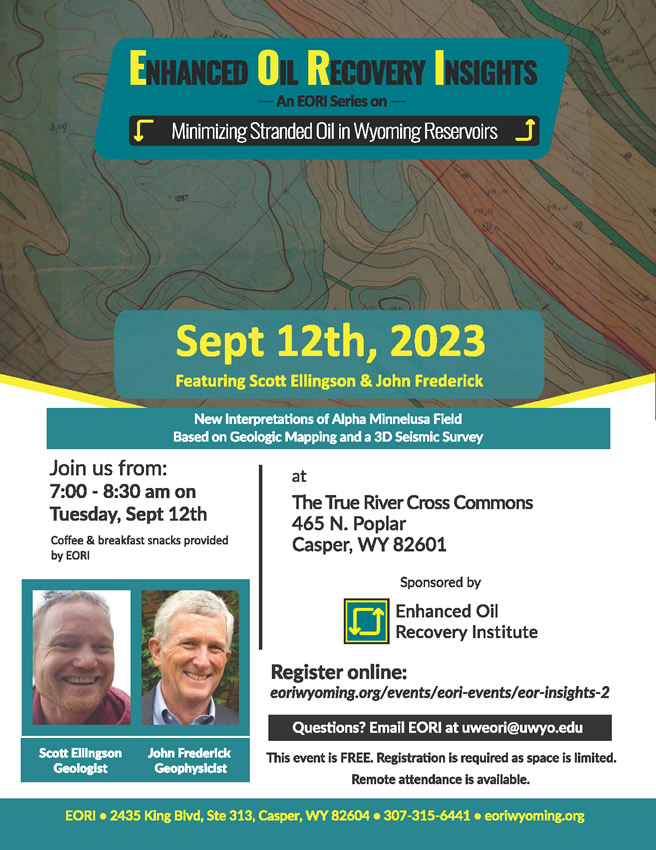 Topic: New Interpretations of Alpha Minnelusa Field Based on Geologic Mapping and a 3D Seismic Survey
Mr. Ellingson and Mr. Frederick will discuss analysis of a 3D seismic survey over the Alpha Minnelusa field and how these new data affected geological mapping of the field. The purpose of the study was to develop a better understanding of the reservoir boundaries and to determine if there were additional locations worth drilling. This work shows that it is now possible to predict reservoir thickness more accurately for PUD locations and of equal importance, to minimize the chances of drilling a dry hole.
Enhanced Oil Recovery Insights on Tuesday September 12, 2023 will feature Scott Ellingson, Geologist & John Frederick, Geophysicist
Join us from 7:00 am - 8:30 am on Tuesday, September 12th at True River Cross Commons (465 N. Poplar, Casper WY)
There is no charge for this event, but registration is required as space is limited. After registration, a confirmation email will be sent. Coffee and breakfast snacks will be provided.
About the Speakers:
Mr. Ellingson, founder of Zion Energy, LLC, is a highly experienced geologist who has worked on conventional assets for the past 15 years, throughout the Rocky Mountain region. Scott currently specializes in optimizing waterfloods, identifying behind-pipe potential, and prospecting for potential PUD locations.
John Frederick, founder of Red Leaf Energy, is known for his expertise in working with the Permian Minnelusa eolian sandstone reservoirs in Wyoming. John has developed methodologies to optimize seismic acquisition techniques and seismic data processing parameters, and has integrated geological and geophysical interpretive and visualization techniques to increase successful efforts in locating and developing reserves.
Event Properties
| | |
| --- | --- |
| Event Date | 09-12-2023 7:00 am |
| Event End Date | 09-12-2023 8:30 am |
| Capacity | 60 |
| Individual Price | This event is free to attend, but registration & email confirmation is required. |
| Location | True River Cross Commons |