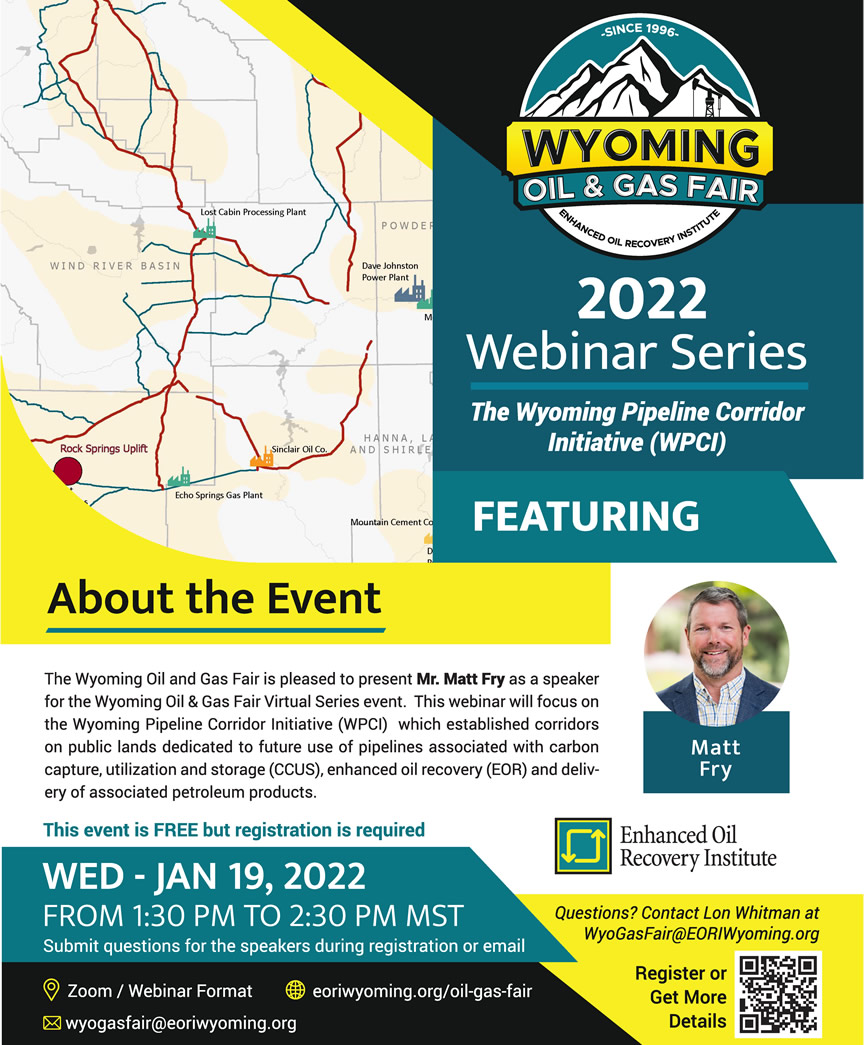 Wyoming Pipeline Corridor Initiative
The Wyoming Oil and Gas Fair is pleased to present Mr. Matt Fry as a speaker for the Wyoming Oil & Gas Fair Virtual Series event.
This webinar will focus on the Wyoming Pipeline Corridor Initiative (WPCI). WPCI established corridors on public lands dedicated to future use of pipelines associated with carbon capture, utilization and storage (CCUS), enhanced oil recovery (EOR) and delivery of associated petroleum products.
About the Presenter, Matt Fry
Matt Fry is the State and Regional Policy Manager, supporting the Carbon Management program, at the Great Plains Institute. Matt has over 20 years of experience in natural resource management, regulation and policy in both the public and private sectors. Matt served as a Senior Policy Advisor to Wyoming Governor, Matt Mead, where he focused on natural resource, energy and CCUS policy. Additionally, he developed and managed the Wyoming Pipeline Corridor Initiative (WPCI), which was a project that culminated with a federal authorization for a statewide pipeline corridor system in Wyoming intended to facilitate development of CO2 pipeline infrastructure and incentivize CCUS project deployment.
Matt earned a Bachelor of Science in biology and chemistry from Davis & Elkins College, and a Master's in Natural Resource Law from the University of Denver – Sturm College of Law.
About the Wyoming Oil & Gas Fair
Now in its 26th year, the Wyoming's Oil and Gas Fair has brought industry leaders together to promote the very best in the oil and gas industry in Wyoming. In a world with many unknowns, rapidly shifting economic conditions, and an ever-changing regulatory environment, the landscape for the oil and gas industry is as it has never seen before.
As the event organizers, the Enhanced Oil Recovery Institute's goal this year is to offer Wyoming's oil and gas industry a premier virtual conference event. Wyoming's Oil and Gas Fair commits to educate, engage, and mobilize industry and state leadership to help identify problems and solutions in order to blaze a path forward and actively shape Wyoming's energy future.
Additional Information:
If you have questions or need additional information, please feel free to contact Lon WhitmanThis email address is being protected from spambots. You need JavaScript enabled to view it.
This event is FREE but registration is required. Please register by Wednesday January 18th at 5pm.
You can submit questions for the speakers during registration or by emailing This email address is being protected from spambots. You need JavaScript enabled to view it.