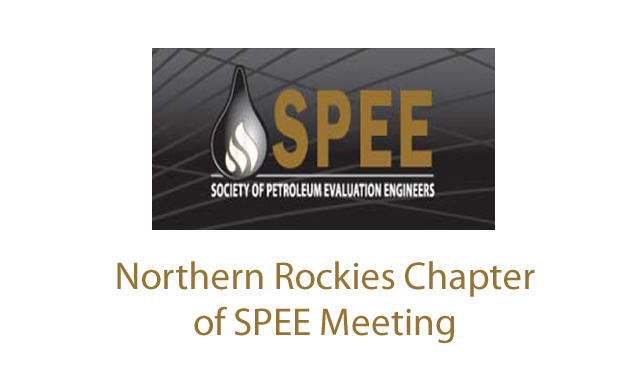 Program
Comparative Results of the Application of Reservoir Simulation to Spacing Optimization in Various Unconventional Plays
Speaker
Miles Palke, P.E., Managing Senior Vice President and Member of the Board of Directors at Ryder Scott Company
Date
Monday, June 17, 2019. 10:30 am to 1:30 pm.
Technical Presentation (approximately one hour) at 11:00 a.m. followed by Lunch.
Sign-in
Sign-in will begin at 10:30 am.
Location
True Commons, 465 N. Poplar Street, Casper, WY. For a videoconference link, please contact Leo Giangiacomo at least 24 hours prior to the event.
Cost
$40.00/person including lunch. $25.00/person for video conference w/o lunch to cover costs of video conference.
Pre-registration is required to get a headcount for planning purposes.
Lunch will be catered by HQ BBQ and will include ribs, brisket, chicken and various sides. Please sign up as soon as possible. Please RSVP to Amy or Rick, 307-234-3571 or This email address is being protected from spambots. You need JavaScript enabled to view it. or This email address is being protected from spambots. You need JavaScript enabled to view it. by Wednesday, June 12, 2019.
Membership in SPEE is not required to attend this meeting.
Continuing Education Credit
1.0 hour continuing education credit for qualified attendees
Contact
Rick Vine 307-234-3571 (office) or 307-752-0701 (cell) or This email address is being protected from spambots. You need JavaScript enabled to view it.
Leo Giangiacomo 307-224-5021 (office) or 307-259-1496 (cell) or This email address is being protected from spambots. You need JavaScript enabled to view it..
Speaker Bio
Miles Palke, P.E., is Managing Senior Vice President and member of the board of directors at Ryder Scott Company, has over 25 years of diverse experience as a reservoir engineer, working for E&P companies and Petroleum Engineering consultancies in a wide variety of roles. Prior to his current position as the manager of the reservoir simulation group at Ryder Scott, Palke worked at Arco and BHP Billiton on operated and non-operated offshore properties in the Gulf of Mexico and Trinidad. Palke previously worked at Ryder Scott and returned in 2009. He has a wide span of expertise, ranging from the practical application of technical reservoir engineering tools to field development, optimization, and reserves estimation, with heavy emphasis on the application of reservoir simulation. His background in consulting has resulted in exposure to a wide variety of reservoirs requiring an extensive array of technical solutions. Palke received his B.S. degree in Petroleum Engineering from Texas A&M University and an M.S. degree in Petroleum Engineering from Stanford University.